BRYAN BAEUMLER
HGTV Canada's Island of Bryan
Bryan doesn't believe he's put in an honest day's work unless he gets his hands dirty. A natural-born teacher, the Gemini-award winning host has been educating and entertaining viewers across Canada and in 23 different Countries Worldwide since 2007 on the hit shows Disaster DIY, Canada's Handyman Challenge, Leave it to Bryan, House of Bryan, Bryan Inc. and Island of Bryan. Bryan's quick wit and easy-going personality have made him a huge hit with viewers on all of his home renovation shows.
Learning valuable tricks of the trade from his father, a meticulous aircraft engineer, Bryan spent his childhood summers building his family's cottage from the ground up. After earning a degree in Political Science and studying Business, Bryan was headed towards a career of practicing law. Realizing he'd rather be renovating than being chained to a desk, his innate passion for building took over and he attended construction courses at George Brown College, officially traded in his tie for a tool belt and founded Baeumler Quality Construction.
A few kids and number of hit TV shows later, Bryan continues to tackle home renovation projects, be the spokesperson for numerous products and expand his growing businesses to include Baeumler Productions, Baeumler Approved and Baeumler Custom Cabinetry among others. Currently filming season 2 of Island of Bryan with wife Sarah, viewers watched season 1 in record numbers, while they restored a small abandoned resort on South Andros Island in the Bahamas! In Island of Bryan, we follow the story of this radical life event for the Baeumlers, from a dream of creating and running a luxury boutique resort in paradise, to the reality of leaving their friends, family and life behind to take on their most challenging build yet. For more information about Bryan, visit bryanbaeumler.com.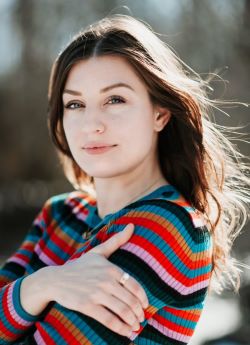 Sabrina Smelko
HGTV Canada's Save my Reno
Sabrina is a designer of pixels, places + things. She's also a TV personality (HGTV Canada's Save My Reno, Home To Win), an award-winning illustrator, and a blogger. Sabrina graduated from Sheridan's BAA Illustration program with honours in 2012. Since, she's worked as an Art Director, UI Designer, illustrator, and teacher. When she's not working or sharing about her life on her blog, you can find her teaching yoga and trying to keep up with her crazy cattle dog, Piper.

Catch her on the Main Stage on Saturday, October 26 at 2 pm and Sunday, October 27 at 2 pm.
Neil Harding has been with Sleep Country Canada for over 17 years. He is responsible for home shows, training and product knowledge nationally. He has extensive experience in all aspects of the mattress industry and is considered an expert in his field.


| | |
| --- | --- |
| Presented by: | |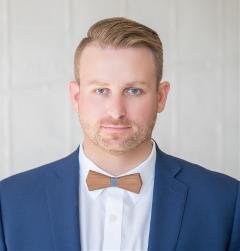 Award-winning interior designer, Jamie Banfield has become a creative force in the industry, and recognized for his signature West Coast style. Specializing in design for all spaces, with a focus on kitchen and bath, Jamie has the ability to transform and create well-edited spaces that exude both function and beauty. With a passion for textures and sustainable design, he often uses reclaimed materials, offering a unique perspective to his finished rooms. Recently recognized by the National Kitchen and Bath Association as one of the industry's top 30 Under 30 in North America, One to Watch by Western Living Magazine, a 2016 Finalist for the Robert Ledingham Memorial - Emerging Designer Of The Year Award and acknowledged with Best of Houzz 2017, 2016 + 2015- Customer Service, Jamie's work can be seen in private residences throughout Western Canada.

Formally trained in interior design, with a complementary background in manufacturing, construction, and custom millwork, Jamie has an intrinsic understanding of the total design process. From inspiration to final completion, his knowledge, attention to detail, and ability to listen to him clients' needs, have resulted in aesthetically functional rooms that truly reflects the people who live there.

Twitter: @banfield_mr | Instagram: @jamie_banfield_design | Facebook: Jamie Banfield Design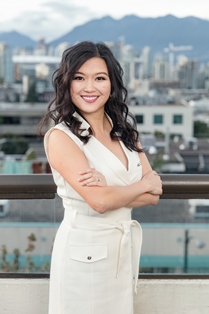 Kathy is an innovative Architectural Technologist and the Principal of Phase One Design. With over 16 years experience, she has wowed over 500 clients with her unique, inspiring and client-focused designs. She successfully educates her clients on design trends while working collaboratively to bring each client's dream home to life. Her vivacious spirit can be seen in her award-winning designs and in her engaging presentations at frequent industry events. Kathy's latest venture is a book titled "Your Next New House: How To Tear Down & Build Your New House Stress-Free, On-Time, And On Budget".
Twitter:
@phaseonedesign
|
Instagram:
@phase.one.design
|
Facebook:
Phase One Design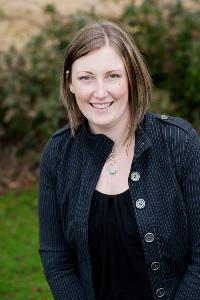 As the founder of SGDI, Sarah loves working with homeowners and uncovering things that will truly make their spaces unique. She is experienced in designing custom spaces of any size, from 1000 sqft to over 15,000 sqft. Hundreds of projects completed and underway, throughout Greater Vancouver, the province, and at international reaches, contribute to a portfolio illustrating Sarah's depth of knowledge in home planning, design, and construction.

Since 2009 the SGDI team has won many CHBABC Georgie Awards, GHVBA Ovation Awards, IDIBC Shine Awards, and NKBA-BC Awards. Sarah is currently 2018 NKBA-BC's 'Designer of the Year' and the Designer of 2018's Millionaire Lottery Grand Prize Home; and her homes are often toured on Global TV's Open House. Sarah's expertise and dedication to the client experience, along with her proven capacity to improve quality of life through dynamic home design, has created a high demand for Sarah Gallop Design Inc. amongst homeowners in the Vancouver area.
Sarah is a commissioner with the Delta Heritage Advisory Commission, she is a professional member of the Interior Designers Institute of BC and has passed the National Council for Interior Design Qualification (NCIDQ) to hold the title of Registered Interior Designer (RID).
Twitter:
@s_gallop
|
Instagram:
@sarahgallopdesign
|
Facebook:
Sarah Gallop Design Inc.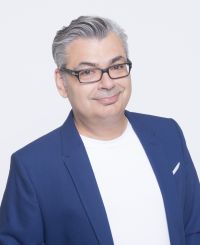 Bruno Feldeisen
Judge on CBC's The Great Canadian Baking Show
A passionate and energetic Chef known for crafting unique cooking experiences, Bruno Feldeisen brings nearly three decades of culinary experience to his role as Judge on the CBC's Great Canadian Baking Show.
Chef Feldeisen was born in the small French town of Clermont-Ferrand and began his career as an apprentice at one of France's most renowned chocolate shops in Moulin, garnering a Best Apprentice Award upon completion.
Embarking on his American journey in 1988, he worked at the Highlands Inn in Carmel, CA, then alongside Uber Chef Joachim Splichal at Patina Restaurant in Los Angeles. In 1994 he accepted a position as Executive Pastry Chef the Four Seasons Hotel in New York, where he worked under acclaimed Executive Chef Susan Weaver. Chef Feldeisen then opened an American-French restaurant, Soléa, in San Francisco. He further expanded his horizons when he became a Pastry Chef Instructor at the Pacific Institute of Culinary Arts in Vancouver, BC.
Feldeisen has been the recipient of awards such as Chocolatier Magazine's Top Ten Pastry Chefs in America two years in a row, and was nominated twice for a James Beard Award as Outstanding Pastry Chef. Chef Feldeisen also appeared on popular culinary television shows such as Chopped Canada, Sweet Genius and Donut Showdown all shown on the Food Network and the Cooking Channel, and was a finalist at the International Pastry Chef of the Year competition held in New York.
Chef Feldeisen's delicious works have been seen in the New York Times, Los Angeles Times, Gourmet Magazine, Bon Appetit Magazine, and New York Magazine, among others.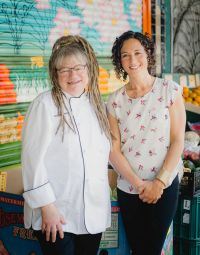 KAREN BARNABY & Alexa Pitoulis
goodly foods
Karen Barnaby
is an award-winning chef, cookbook author, cooking teacher and Vancouver Sun columnist who currently works as a product development chef/consultant. After 40 years in the food industry she still loves to cook which leads her down many rabbit holes of ancient and modern foods, techniques and cuisines.
Her career started quietly in 1979 in the basement of an Ottawa restaurant. With a pink, four-burner electric stove and a whisk, Karen discovered her true calling in life.
She is grateful that her grandmothers taught her how to pick wild berries, garlic and asparagus and to have had Middle-Eastern, Korean, Chinese, Italian, Japanese and Thai mentors and friends to share their food and knowledge with her.
She believes that good food should be readily available for everyone and has a low tolerance for food snobs and picky eaters.


Alexa Pitoulis
is a creative strategist with over 17 years of experience leading teams in public, private and non-profit sectors. A change leader with an MBA in Sustainable Systems, Alexa is skilled at moving the whole working of an organization, and its effects on systems, in ways that illuminate potential and build capacity. Alexa is currently the General Manager for Goodly Foods, an innovative social enterprise that makes delicious soups, stews, and sauces by repurposing surplus produce and creating unique community employment opportunities. A self-proclaimed kale-powered supermom on two wheels, Alexa can be found zooming around on one of her bikes when not cooking for her two teenagers.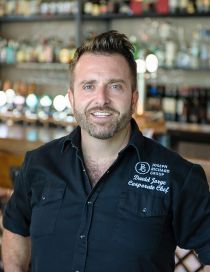 David Jorge
Corporate Chef, Joseph Richard Group
After years of self-directed culinary studies, experimentation with techniques and ingredients, and honing his skills through events and gatherings, Jorge's lifelong dedication to his passion for cooking secured his victory on MasterChef Canada Season 2, where he earned the title of his dreams: Chef.
Following his MasterChef victory, Chef David Jorge joined Joseph Richard Group as Corporate Chef. He began developing the menu for S+L Kitchen & Bar, including his signature 'Dream Seasoning', his famous Master Chicken, and the Sablefish that started it all, while also adding many exciting dishes to the menus at JRG's Public Houses. Chef David's contributions reflect a love of comfort food and honest flavours.
Chef Jorge will continue to work alongside the JRG Culinary team to refine and enhance the food and beverage experience in all the Joseph Richard Group establishments.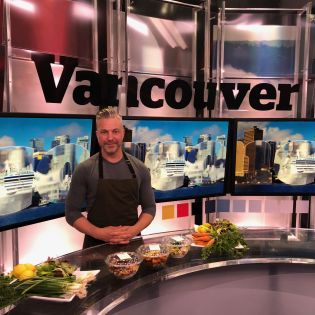 Dennis Peckham
Fraiche Sheet Foods
Dennis is a born and raised BC boy, who was a terrible student and fell into restaurants with his first dishwashing job, merely to get in from outside working construction. It's been quite a ride ever since, with a career that has spanned the best restaurants in Canada, stints in Chicago, San Francisco, Napa Valley, New York and a win on Chopped Canada for the Food Network.
Out of cooking school, Dennis landed a job at perennial best restaurant in Canada, Lumiere. After working there for a number of years and working all positions in the restaurant, he wanted more for his career which pointed in the direction of the US.
After hounding Chef Thomas Keller week after week with resumes and cover letters, a shocking call came one Friday during service. The call came from the French Laundry, the best restaurant, two years in row, in the entire world. "Be in New York in two weeks" that was the message. Dennis made it to New York, and worked with Chef Keller in the process of opening PerSe, his second 3 Michelin Star restaurant. Dennis went on to work a life changing experience at The French Laundry with some of the top chefs in the country. Settled back in Vancouver, Dennis has been part of opening teams at Glowbal Group, has run Grouse Mountain Resort and most recently worked as Executive Restaurant Chef at Fairmont Hotels. Dennis, on top of being a dedicated chef, is also a Men's Physique Champion, and of course passionate about all areas of his life.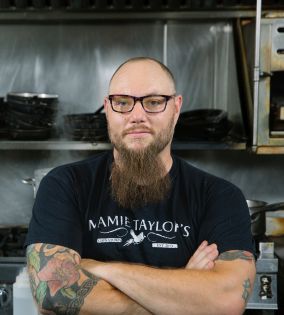 CHEF JONAS HAMRE
Head Chef at Mamie Taylor's
Chef Jonas Hamre cut his teeth in the kitchens of Calabash Bistro and Memphis Blues BBQ before setting off to Calgary to open his award-winning bistro, JAROblue. Upon returning to the West Coast, he took over as Executive Chef for the UBC Alma Mater Society, overseeing nine distinct culinary outlets. But he missed the fun and creativity of a smaller restaurant, and so he stepped into the kitchen at Mamie Taylor's this fall, where he's keen to put his summer competing on the Texas BBQ circuit to good use.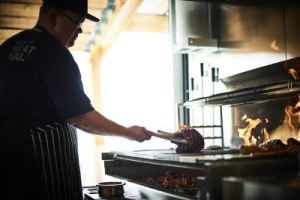 CHEF TONY STARRATT
With over 12 years' experience in the culinary industry, Chef Tony Starratt's passion for food and international flavours has taken him around the world. Beginning in Prince Edward Island, where he received his formal training at the acclaimed Culinary Institute of Canada, Tony has worked the line at high-volume Banff resorts using classic French techniques, trekked to remote Australian outback towns to serve South-East Asian cuisine, and mastered the art of refined BBQ at Toronto's Barque Smokehouse.
Tony joined the Two Rivers Specialty Meats team in 2014, adding skills in butchery and charcuterie to his repertoire. With his new position as Chef, he brings his vast culinary knowledge and limitless curiosity to the new customer-facing food programme at Two Rivers Meats North Vancouver-based eatery.
ABOUT TWO RIVERS SPECIALTY MEATS
Founded in 2007 by Jason Pleym and Margot Millerd-Pleym, Two Rivers Specialty Meats became the region's premiere supplier to top chefs in B.C. A favourite with Western Canada's top chefs, Two Rivers Specialty Meats' commercial expansion, Two Rivers Meats — The Shop connects local farmers with everyday meat lovers as well as home cooks by supplying consumers with an ethical and sustainable product of unsurpassed quality and flavour.