Welcome to the Vancouver Fall Home Show!
As the weather cools down, fall is the perfect time to tackle those at-home projects. We've handpicked the industry's best for the upcoming Vancouver Fall Home Show, from top celebrity guests and homegrown Vancouver talent alike.
This year, we're thrilled to welcome Vancouver's own
Todd Talbot
, host of HGTV Canada's Love It or List It Vancouver to the Urban Barn Main Stage where he will share secrets about how to make the most of your home, even in a small space. Don't miss out on seeing lifestyle gurus
Colin + Justin
, stars of Cottage Life's Great Canadian Cottages. This dynamic duo is sure to light up the stage, along with HGTV Canada designer
Tiffany Pratt
from Home to Win, presented by Sonnet Insurance, who will bring her signature colour and vibrant energy to the stage offering her advice when making bold changes to your home as your life changes.
From there, shop and consult more than 325 trusted brands and local companies, all under one roof. And when you've finally hit all the features and booths, swing by the lounge presented by Western Living, designed by Jamie Banfield Designs, and treat yourself to a drink.
From renovation overhaul to brand-new build, DIY do-overs to one-day decor dreams, the Vancouver Fall Home Show is where big ideas, trusted advice, and fresh inspiration unite. The best part? Satisfaction guaranteed - we're so sure you'll enjoy the show, we'll refund your admission if you don't!
We can't wait to see you there.
Tyson Kidd, Show Manager
TOP FEATURES
The Urban Barn Main Stage presented by The Vancouver Sun
Expert advice for every home! Straight from the industry's top home + design talent on the Urban Barn Main Stage, get a crash course in creating the ultimate pad from must-see presenters including Todd Talbot, from HGTV Canada's Love It or List It, Vancouver, lifestyle gurus Colin & Justin stars of Cottage Life's Great Canadian Cottages and Tiffany Pratt from HGTV Canada's Home to Win, presented by Sonnet Insurance, join forces with local experts to bring your home dreams to life. Vancouver's very own top talent including Jamie Banfield will also be there to light up the stage. By the end of it all, you're certain to have everything you need to live and entertain in equal style – design know-how included.

Fulgor Milano Cooking Stage
Aspiring home cooks, turn up the heat and sharpen your knives - it's your chance to get schooled by Vancouver's top chefs on the Cooking Stage. See Vancouver's culinary legends and modern masters, as they conduct in-depth demos featuring tried-and-true kitchen cheats, can't-miss culinary trends, and entertaining expertise. Oh, and you might just be lucky enough to taste some of their creations!

The Lounge presented by Western Living Magazine, designed by Jamie Banfield Design
Chill out and treat your taste buds with a stop at the stylish Lounge, where you can sip your favourite cocktail while taking in a cutting-edge, creative presentation on the Urban Barn Main Stage and the taste bud teasing Cooking Stage . Designed by award-winning Interior Designer Jamie Banfield, all you need to do is sit back with drink in hand, browse the newest issue of Western Living Magazine and relax — you may even be inspired to stay for another round or two!

Dave's House presented by BC Hydro, designed by Jamie Banfield Design
Take a step into the power smart house of Dave, one of BC Hydro's very own employees. Designed by Jamie Banfield Design, Dave's house shows you some of the ways he keeps his place energy efficient and comfortable. Come visit us to learn about products and tips to better manage your usage while saving on energy costs. Visit powersmart.ca to boost your power smarts and for a chance to win great prizes.

MURAL
Local Vancouver artist to decorate the side of the ticket booth with their art and flair.

M(art)KET
Dress up those naked walls with a stop at M(art)ket. Add that much-needed finishing touch to your space with one-of-a-kind pieces from this curated collection of canvases, prints, and photographs by local artists. With eight featured vendors, including Shakun Contemporary Art and Photography by Kerri-Jo, you're certain to say goodbye to your blank walls for good.

WORKSHOP
Your Pinterest board is about to come to life! Learn from the pros in this hands-on workshop series curated by some of Vancouver's finest local artisans. Learn from the best in a variety of categories, including The Flower Factory. Create your very own unique floral wreath, learn how to create the perfect table setting, and more! Choose your workshop and reserve your spot online directly with each vendor.

Portobello West
Flock to Vancouver's very own nod to London's world-famous street market Portobello West, where you'll discover local artistry, superior craftsmanship and a wide array of antiques and collectibles. Shop from a selection of unique purveyors and goods, including jewellery, sustainable textiles, and hand-poured candles from Vancouver's top emerging artisans at this eclectic pop-up – chock-full of original pieces that are bound to catch your eye.

Ask an Expert presented by Greater Vancouver Home Builders Association
You come to the show with questions, and this is where you will find the answers. Local design, construction, and landscape insiders will help you get your home project on the right track and educate you on how to choose the professional you need. Learn the benefits of working with any one of these experts, and the advantages of collaboration between them in the early stages of planning your home. Take inspiration from the beautifully styled space; bring your ideas, photos, drawings, swatches, and samples to enjoy a complimentary 10 - 15 minute consultation, leave with the know-how to bring your dream home to life!

The Telus Future Home powered by Telus PureFibre
Back to the TELUS Future Home! No need to press fast forward, the future of fibre optic entertainment is already waiting for you when you step into the TELUS Future Home. A showcase of their revolutionary technology, the TELUS Future Home showcases their state-of-the-art fibre optic network that connects communities across Western Canada better than ever before. Step inside the super-wired 560 square foot Home to see just how revolutionary TELUS Fibre is. You might want to make yourself comfortable and stay awhile to enjoy the most reliable, consistent connection to date with blazing fast speeds of 150mps to stream video in ultra-HD quality, and more.

Better Business Bureau Help Desk
Get the most out of your visit with a trip to the show entrance in Hall C, where you'll get insider tips from staff, there to help you navigate the show and point you in the right direction to tackle all your home improvement tasks. Whether you're stuck with wall-to-wall carpeting or dreaming of blowing out that wall for an airy open-concept space, you'll get all the assistance you need — after all, asking for help is the first step to success!
Meet the Experts
Todd Talbot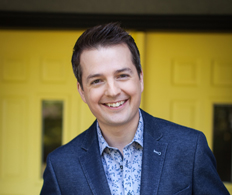 TV Host
Instagram:
@toddtalbot
TV Personality, actor, and award winning host on HGTV. Todd has spent the past five years hosting the international hit show Love It or List It, Vancouver.
Through multiple TV, Digital, and media platforms, Todd shares his passion for responsible home ownership to inspire positive changes in people's lives. Todd also travels Canada and the US inspiring smart investment, renovation and design choices, and creating wealth through real estate. Todd lives and promotes a 'created life' encouraging himself and others to be conscious of how we design, build and most importantly LIVE, in our homes and communities. Currently living in Vancouver with his wife Rebecca and two kids, Ashlyn and Kesler.
See Todd Talbot on the Urban Barn Main Stage:

Right-Sizing
Saturday, October 20 at 6:00 p.m.
Sunday, October 21 at 2:00 p.m.
Colin + Justin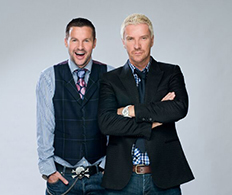 Interior Designers + TV Hosts
Instagram:
@colinandjustin
Twitter:
@colinjustin
Interior designers, style commentators and all-around lifestyle gurus Colin & Justin are notorious for their sharp sense of humour and straight-talking advice. Over the last decade, Colin & Justin have become household names, bringing their signature style advice to several television shows worldwide, including W Network's Game of Homes and Cottage Life's Cabin Pressure, as well as their eponymous line of home goods at Homesense, Winners and Marshalls.
In between designing, filming and connecting with their beloved fans around the globe, Colin & Justin have built a growing real estate portfolio of rental properties between Toronto, London and their hometown of Glasgow, Scotland, delivering market appropriate leased properties to style conscious urbanites.
See Colin + Justin on the Urban Barn Main Stage:

Thursday, October 18th at 7:00 p.m.
Friday, October 19th at 2:00 p.m.
Tiffany Pratt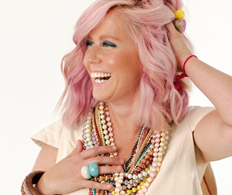 Star,
Home to Win
, HGTV Canada (presented by Sonnet Insurance)
Instagram:
@thetiffanypratt
Twitter:
@thetiffanypratt
Her trademark hair and big energy make Tiffany Pratt unforgettable. But her hands-on approach to design, and the care she has for her clients, make her irreplaceable. Tiffany fell in love with beautiful things at a young age when she would memorize every page of Vogue magazine. Today, that same appreciation for beauty has carried through into her day-to-day work. She sees exquisite in the unexpected, mixes old with new, merges elegant with livable, and she lives and breathes her truth that "this can be beautiful." Tiffany hosts shows on HGTV Canada and is a regular guest expert on
Cityline
. She also released her first book,
This Can Be Beautiful
in 2016 and can be seen on the current season of HGTV Canada's
Home to Win
.
See Tiffany on the Urban Barn Main Stage, presented by Sonnet Insurance:

Time Changes Everything
Friday, October 19th at 7:00 p.m.
Saturday, October 20th at 3:00 p.m.
Show Sponsors:
Urban Barn
Sleep Country
Vancouver Sun
Cloverdale Paint
Rust-Oleum
RenovationFind
Better Business Bureau
BC Hydro
Sonnet Insurance Company
INFINITY
Coast Spas
Pacific Specialty Brands (SMEG)
The Province
Western Living
Sonnet Insurance
Media Sponsors:
Global Spas
Jack 96.9
The Peak 102.7
JRFM 93.7
CKNW AM 980
103.5 QM FM
Virgin Radio 94.5
Rock 101
CFOX 99.3
West Coast Homes and Design
News 1130
Show Charities:
Habitat For Humanity Greater Vancouver
Variety, The Children's Charity
THE VITALS
Show Dates & Hours
Thursday, October 18 4 p.m. – 9 p.m.
Friday, October 19 Noon – 9 p.m.
Saturday, October 20 10 a.m. – 9 p.m.
Sunday, October 21 10 a.m. – 6 p.m.

Show Venue & Location
Vancouver Convention Centre West
1055 Canada Place
Vancouver, B.C.
V6C 0C3

ADMISSION:
Adults (13+): $16
Adults (13+) ONLINE: $13
Seniors (60+): $13
Seniors (60+) ONLINE: $10
Seniors (60+) Friday before 6 p.m. $6 (Box Office + Online)
Children 12 and under: FREE

Buy your tickets online and save $3 at www.vancouverfallhomeshow.com.

Help support affordable housing in the Lower Mainland by donating to Habitat for Humanity Society of Greater Vancouver when you purchase your ticket for the Vancouver Fall Home Show. www.habitatgv.ca

VENUE:
Vancouver Convention Centre West

ADDRESS:
Vancouver Convention Centre West
1055 Canada Place
Vancouver, B.C.
V6C 0C3

SOCIAL MEDIA:
Twitter: @VanHomeShows #VFHS18
Instagram: @VanHomeShows #VFHS18
Web: vancouverfallhomeshow.com
Facebook: facebook.com/homeandgardenevents
For media inquiries, please contact:
Erica Huculak, Marketing Manager, EricaH@mpeshows.com

For social media inquiries, please contact:
Thea Scrimger, Social Media Manager, TheaS@mpeshows.com