Focused Interiors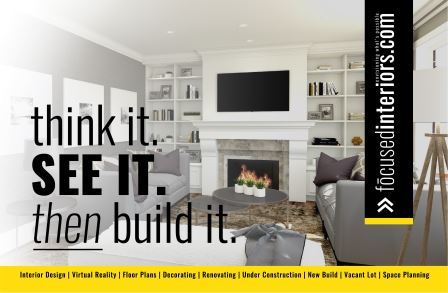 Booth: 812
Greater Vancouver, BC, Canada
(778) 242-2778
Think it. SEE IT. Then build it!
90 percent of people cannot visualize interior design ideas. Are you one of them? Focused Interiors is an award-winning 3D Visual Interior Design Studio helping homeowners and investors "SEE" the design possibilities of their property - regardless of its current state! We bring your ideas to life by making use of today's state-of-the-art graphics and virtual reality technology. We work one-on-one with our clients, identifying their goals and desires to make sure their focus, is our focus. We offer both complete and stand-alone services – only select the services you need, as you need them:
DESIGNER-ON-DEMAND: Focused interior design when & where you need it; and
3D-INTERIOR-DESIGN: See your design in 3D - think it, SEE IT, then build it.
Focused Interiors is committed to helping you "SEE" the potential of your project before you build it. Don't experiment with your money.
FAQ
Q: Designers are expensive, are you going to cost me an arm and a leg?
A: No. Not only are we reasonably priced, we also only provide the services that YOU really need. Use us as you need us. We are your designer on demand.
Q: We want to renovate our home, but we are lost for ideas. Can Focused Interiors help?
A: Absolutely! We work one-on-one with our clients identifying their goals, desires and design ideas for each area of their project. This ensures we deliver a truly focused design.
Q: My partner and I cannot agree on how we want our home to look. We both have different ideas. How can Focused Interiors help?
A: We will work with both of you to fully understand your vision and desires for your project. We bring your design to life so you can both see it and get on the same page.
Q: Our project is small, but I still need some design help. Is that okay?
A: Of course! It doesn't matter the size of your project, we are happy to be a part of it. Stop by our booth to SEE how we bring ideas to life!
Interior Design | Virtual Reality | Floor Plans | Decorating | Renovating |Under Construction | New Build | Vacant Lot | Space Planning.